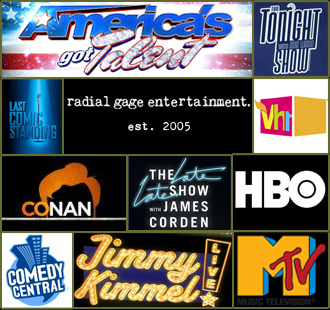 "Aidala is very professional to deal with and his roster of talent is stellar. He turned our firehouse into a comedy club for an evening and made our fundraiser a huge success! I would recommend his services to anyone seeking a unique and memorable evening of clean entertainment."
- Mark Wertman, Assistant Chief
Altamont Fire Dept
Altamont, New York
"Whether Greg is crafting a punchline, producing a comedy show, or dreaming up new ways to entertain his audience - he is a true leader. Greg's humor, confidence, and follow through makes him the real deal in my opinion."
- Jason Keller, Production Director
WEQX 102.7
Manchester, Vermont
"The caliber of talent is top notch. I would put his talent and show up against any comedic venue in the United States."
- Ray Kearney, Comedy Night Chairman
Rotterdam Elks Lodge
New York
"The students just loved Greg!"
- Kathy Rusch, Director of Undergraduate Admission
The Sage Colleges, Troy Campus
New York



"Greg's reputation is spotless amongst comics. What really sets him apart is he's a phenomenal comedy businessman."

- Jesse Joyce - Comedy Central Roast Writer

ra·di·al: to radiate outwardsgage: a pledge

radial gage entertainment exists to provide cutting edge comedic performances. Greg Aidala began stand-up comedy in 2001 and quickly realized that the best way to move ahead in the comedy business was to produce and perform in independent shows. With a desire to improve upon the old standards of comedy, Aidala set out to form this company.

radial gage entertainment has been contracted to perform at a number of venues including theaters, colleges, clubs and bars. Our services can be hired for any occasion. For your Country Club reception or work party, you can rest assured that you will receive a solid evening of unique and memorable entertainment.

Aidala feels that the best comedy is intelligent comedy and takes this responsibility seriously. All of our performers are professional National comedians seen on The Tonight Show Starring Jimmy Fallon, The Late Show with Stephen Colbert, The Late Late Show with James Corden, Conan, Late Night with Seth Meyers, Jimmy Kimmel Live!, NBC's 'Last Comic Standing', America's Got Talent, Comedy Central, HBO, VH1 and MTV.

radial gage entertainment is determined to be the most professional and loyal company in the industry. For booking and fee information, please consult the contact information at the top of this page. (*radial gage entertainment is a fully insured company.)

Thank you for your interest in radial gage entertainment.